If you are not particularly concerned with how Google itself manages your personal data, then perhaps you are concerned about data breaches.
If you trust certain search engines and websites with your data, keep in mind that no one is truly unhackable. What happens when your data is shared with the world? I suggest it is best to choose a search engine that does not log nor store user data in the first place.
Not all privacy search engines are made equal, but the following are still miles ahead of google in their dedication to protecting user data and privacy.
In no particular order, these are decent search engines that respect user privacy and do not resell your data.
1. Brave Browser

Brave is an open source browser based on chromium, where you can earn BAT tokens by viewing Brave Ads: "Ads presented are based on your interests, as inferred from your browsing behavior. No personal data or browsing history ever leaves your browser."
2. Searx

Searx is a free internet metasearch engine which aggregates results from more than 70 search services. Users are neither tracked nor profiled. Searx can be used over Tor for online anonymity, and you can host your own instance.
3. Presearch.org

Presearch.org: Presearch is a decentralized search engine powered by blockchain technology. "Search privately, receive better results" and get rewarded with tokens.
4. Swisscows
Swisscows: "Swisscows only collects the data that is necessary to provide its services and stores it in the anonymized way in our own self-hosted analytics system. We do not create personal profiles, but anonymize all search queries after 7 days. We do not use cookies or any other tracking technologies, we do not create user profiles and we do not know who you are. The very limited and anonymous information that Swisscows collects is not resold. It is only necessary to provide the services."
5. DuckDuckGo — DuckDuckGONE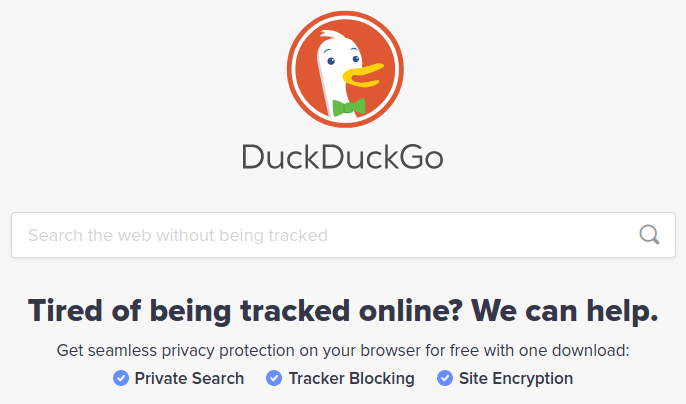 Duckduckgo is a popular privacy-conscious search engine with its own blog to educate users on privacy actions and the search engine's features.
Your personal data is nobody's business.
"For everyone who's had enough of online tracking, DuckDuckGo lets you take back your online privacy now."
Pros of DuckDuckGo:
No search data is collected or stored. (There are other privacy-protecting DuckDuckGo products that extend to your browser activity.)
No data is stored, thus there are no ads targeting you based on your searches.
No social engineering techniques used on your based on your searches and other interests.
Unbiased search results: you'll see the same search results as all other users (no targeting or profiling).
1-page search results. DuckDuckGo has an infinite scroll search results page, which means that as long as you keep going down, more search results keep loading. No more clicking until the tenth page to find what is most relevant to you.
Cons of DuckDuckGo:
DuckDuckGo has gone the way of Google, purporting to know unilaterally what is true and penalizing what is not supporting the Official Narrative. This tweet seals the deal:
6. Startpage

Startpage: "We don't collect or share your personal information. Ever. There's literally no data about you on our servers. None. We can't profile you, and we can't be forced to hand over your data to authorities, simply because we don't have any data to hand over."
Startpage is my browser start page.
7. Qwant
Qwant is a Bing-affiliated search engine, but it is based in Paris and therefore has stricter privacy laws that respect users as people and not as dollar signs.
8. Search Encrypt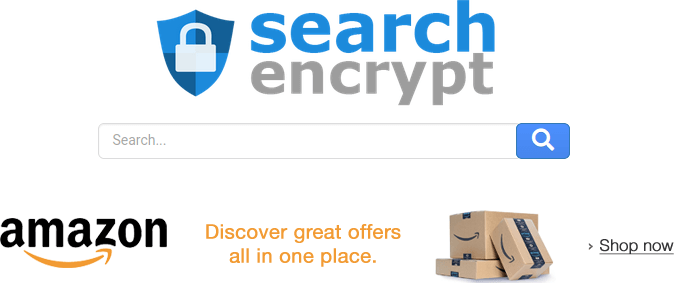 The Search Encrypt extension protects your privacy by detecting searches that may be tracked and tied to your personal information. It intercepts those searches and redirects them to Search Encrypt's privacy-enhanced search engine which will be set to your default search engine. Search Encrypt is supported by sponsored ads featured on the search results page.
After 30 minutes of inactivity, Search Encrypt results expire and can no longer be viewed.
9. OneSearch

Verizon Media owns OneSearch and retains the limited types of data according to the following table:
| Type Of Data | Verizon Media Retention Period |
| --- | --- |
| IP Address  | 4 days |
| Search Query | 180 days |
| User Agent | 180 days |
| Location Data | 180 days |
Their privacy policy promises that when you make a search no Personal Data will be transferred to their Search Provider or any Search Partner unless you identify yourself or anyone else in the Search Query. Your Personal Data is obfuscated and processed and stored in separate servers that are located in Ireland and the USA.
In addition, you may request your data or object to the collection, processing or use of your data, or request deletion of your data. You may also have additional rights based on your local jurisdiction. If you wish to exercise any of these rights, you can do so at any time by contacting us. Given how OneSearch stores and retains data, users can exercise their rights, but because Verizon Media do not keep any Personal Data (i.e., IP Addresses) for longer than four days, there may be nothing to return to users and no Personal Data for users to request, delete, or restrict.
10. Ecosia
"The search engine that plants trees."
Ecosia is a B lab certified search engine based in Berlin, Germany. It donates 80% or more of its profits to nonprofit organizations that focus on reforestation. It considers itself a social business, is CO2-negative and claims to support full financial transparency and protect the privacy of its users.
Although not a privacy-first search engine, Ecosia does offer the ability to turn off tracking. According to their privacy policy, they:
remove parts of the IP address when we store it so they become anonymous. For example 192.168.152.223 becomes 192.168.XXX.XXX
do not use unique event fingerprinting
send all data collected from Ecosia services over an SSL-secured connection
store all analytics data in an encrypted database
only keep fully anonymised search data after 7 days
If you want to opt out of tracking, you can activate "Do Not Track" in your browser's settings.
11. Ekoru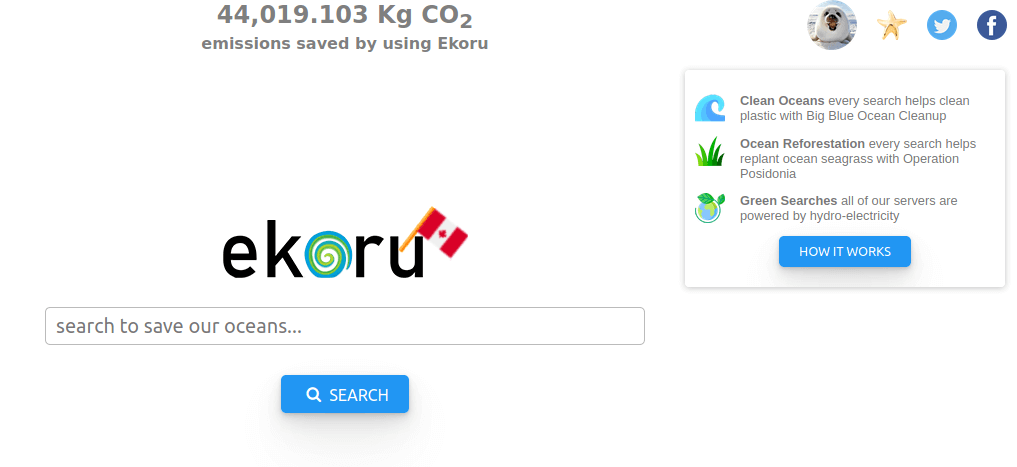 Want to feel like you're doing something to help save the environment while you search for how to oppose carbon taxes (which you ought to oppose — they make zero sense)? Check out ekoru.
Ekoru: "We do not sell your data or information. In order to facilitate your searches we have to transmit information relating your searches to external partners such as Bing. The information transmitted to perform the search is the IP address, browser agent, and the search query. This information is anonymized and not used to identify you in future – to read more about Bing's own privacy policy and how they manage data you can click here."
12. MetaGer
MetaGer is an open source metasearch engine based in Germany.
13. Mojeek
Mojeek is a true search engine (not just a metasearch engine) with its own crawler and index. UK-based.
14. YaCy
YaCy is a decentralized, open source, peer-to-peer search engine and "free software for your own search engine."
15. Givero
Givero is based in Denmark and offers more privacy than Google (although that doesn't say much) but combines search with charitable donations.
Why Use Something Other Than Google?
Google remembers your search history. Forever.
Searching with google while in an Incognito browser tab is still not truly private.
Google sells your data and habits to third parties and offers them sophisticated tracking tools and cookies so you can be bombarded with personalized ads.
Google also scans your private email and collects data in order to spam you with ads. Google representatives say this is an automated process and that no human employee sees your personal emails, but so what? That data is stored somewhere and who knows what will happen to it in the future.
Six Steps to Protect Your Search Privacy by the Electronic Frontier Foundation is a great resource. They suggest:
1. Don't put personally identifying information in your search terms (easy)
2. Don't use your ISP's search engine. Try an alternative search resource (easy)
3. Don't login to your search engine or related tools (intermediate)
4. Block "cookies" from your search engine (intermediate)
5. Vary your IP address (intermediate)
6. Use web proxies and anonymizing software like Tor (advanced)
If you're into freedom and privacy, you might want to invest in some private cryptocurrencies.
SB
I've been practicing OSINT and utilizing Linux as my daily operating system for over twenty years. The tools are always changing and so I'm always learning, but helping you understand the value of protecting your own data remains at the forefront of everything I do.