We all have a main email address which requires a unique phone number for verification or 2-factor authorization, and that email provider probably knows a lot about you.
But there are other occasions where I just don't want to divulge so much information to any company, let alone to a company providing a burner email address when I simply want to access a free download or newsletter or the like. Use it and lose it, as it were.
Having another email address for added privacy has many benefits, such as the ability to make embarrassing online purchases a little less embarrassing, and for subscribing to that newsletter without sharing your personal number and entire identity in exchange for the privilege of spam.
Email providers that don't require phone number verification [and are free]:
Protonmail
Mail.com
Tutanota
TempInbox
OpenMailBox
Mailnesia
CyberAtlantis 
Mailinator
Maiz.ca
Apart from being email providers that don't need phone numbers verification, some also offer certain functions like encryption, as well as limited functions such as being a send-only or receive-only email provider.
Your Main Email Address: Make Sure It's Encrypted
It is a fact that our email plays a major role in most of our internet activities. Thus, making it easy for the government, malicious hackers, and powerful corporations to monitor your activities.
These facts are enough to consider securing it. Registering an email provider that doesn't require personal information such as a phone number is a good step forward. But it's not enough to protect your mail. An encrypted email service is required for your everyday emailing, and although you can encrypt your messages yourself using GPG or PGP, it is much more convenient when that part is already taken care of.
Email Providers that Encrypt Messages:
Providers That Send Only or Providers That Receive Only 
There are certain privacy-focused email providers that have limitations such as a send-only function or a receive-only function.
Send-only provider:
Receive-only providers:
Mailnesia
TempInbox
Mailinator
Anonymous Email Providers for Keeping Your Email Address Protected
AnonAddy – Anonymous Email Forwarding (Sends and Receives Emails)
SimpleLogin – Use email alias instead of your personal email address to defend against spams, phishing and protect your privacy
Email Providers Review
Tutanota
Founded in Germany in 2011, Tutanota is an email service with a focus on security and privacy through the use of encryption.
Accounts start with 1GB storage with their free plan and an ad-free experience while using their service.
Tutanota is also quite convenient. On Tutanota you can search the entire body of the encrypted message; many times I have not been able to find something on Protonmail that I can find instantly on Tutanota. Tutanota doesn't allow third-party email clients, but they are developing a desktop client and they have an app available in F-Droid. You can also download their app from conventional stores (App Store on iOS and Google Play for Android).
This is one of the most secure email service providers you can find today. They offer dependable protection for your email account without the need for a phone number verification to complete registration. Incoming and outgoing emails are encrypted.
Protonmail
Here's another popular email service provider that doesn't require a phone number for verification. They offer functions such as encrypting your incoming and outgoing mail with integrated OpenPGP encryption in their webmail. Emails to other ProtonMail users are encrypted automatically, and encryption to non-ProtonMail users with an OpenPGP key can be enabled easily in your account settings. They also allow you to encrypt messages to non-ProtonMail users without the need for them to sign up for a ProtonMail account or use software like OpenPGP.
Accounts start with 500 MB storage with their free plan.
The only downside to this email provider is you only send a maximum of 150 emails a day.
ProtonMail accepts Bitcoin in addition to accepting credit/debit cards and PayPal.
Disroot
Based in freedom-loving Amsterdam, Disroot has been in operation by volunteers since 2015, and offers email and other services.
Disroot is free and uses open source software such as Rainloop to provide service. Users support the service through donations and buying extra storage. The mailbox limit is 1 GB, but extra storage can be purchased for cheap.
Email Providers for Throwaway Email Addresses: Ad-Supported, So Beware
Mail.com
This is a simple provider to work with as it requires a quick and easy sign-up process:
Enter name 
Then enter the preferred email address
Put in your a security question and answer
Then input your desired password
Mail.com offers unlimited storage for your emails. But the provider is ad-supported and imposes a 30MB limit for file attachments. Might as well use something mainstream like msn.com, yahoo.com or gmail if you're interested in mail.com.
OpenMailBox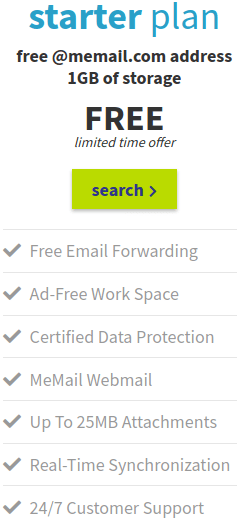 The OpenMailBox free starter plan email service offers its users a free anonymous email account with storage space that rivals outlook.com, Gmail, & Yahoo mail (1GB storage space, up to 25MB attachment size limit per message), and an ad-free workspace. 
OpenMailBox / MeMail gives you the ability to get the email address that best represents you, with thousands of email address domains for fun, personal or business use.
Similar to zohomail, MeMail provides an inbox, calendars, contact manager, and task manager.
Disposable Mail Boxes / Public Email Services to Block Spam
These are the services to use for trivial, non-personal needs: newsletters, fake name kind of things. 
Guerrillamail – Disposable Temporary E-Mail Address. No personal data needed. Use your address once or until it has been compromised by spammers, then delete the account. A Guerrilla Mail app is available for Android.
TorGuard – The free version provides 10 MB of offshore storage, end-to-end security using SSL encryption, and G/PGP encryption.
5ymail.com – How it works, from their website:
1. Make up your false identity: NAME and EMAIL
Type your Anonymous Mail, eventually attach a file
Send your Anonymous Email…
2. Your recipient will receive your anonymous email, it will be TOTALLY IMPOSSIBLE to know who sent it.
3. You will get a read receipt confirming your anonymous email has been read. Great…
4. Exclusive : Your recipient will be able to REPLY, and you will be able to start a conversation without blowing your cover.
Maiz.ca
Any Canadians in da haus? "Maiz Email & SMS Inbox Services are completely Free for Canadians." Probably ad-supported.
Maiz "provides a very fast & free email service, temporary email and inbox solution."
Suitable for your professional business and personal use requirements.
Utilize anywhere on any device.
SMS INBOX: SMS spamming is increasing drastically, so to overcome that, they allow you to use their phone numbers and keep your personal phone numbers private so you avoid being a victim of those darn spam calls. 
SMS Inbox allows you to use their phone numbers for FREE to receive SMS online and anonymously.
Mailinator 
This provider is quite different from the rest in this post. As it allows you to make public email addresses that can be used by others (without the need for phone number verification). It can also enable you to take control of an already created public address. There is no need to sign-up, which makes it all the easier to access.
Best Use: Use it to sign up for newsletters to access a free download, that kind of thing
Note: it's best not to keep important information here. 
Mailnesia
This is a receive-only Email service provider that doesn't require your phone number for verification. In fact, there's no need for registration at all. All you have to do is enter your preferred email address and you're golden.
Mailnesia is great for subscribing to newsletters, blog posts, or any online domain. It's a great substitute for your main email which has all your personal information.
TempInbox 
This is another temporary receive-only email service provider that doesn't require your phone number for verification.
Signing up is quite easy:
Input into the text box your preferred email address
Accept terms & conditions
Then click on check mail (to see if it has been taken or not).
Spam Blockers * Disposable Mail
Spamgourmet
You can use spamgourmet when signing up for online accounts anywhere that you don't trust.
If you give your email address to everyone, you are bound to receive spam emails, and you won't know where they came from. Wouldn't it be convenient to give a different email address to every business or web site, while getting all your email as before? Wouldn't it be easiest to assume the address will be given to spammers, and have it work as a spam blocker by shutting off automatically unless you decide otherwise?

That's exactly what spamgourmet offers! There is nothing to install on your computer, and once you're set up, it's likely you won't ever have to come back here. This is what makes spamgourmet one of the most convenient and effective anti-spam tools available.

spamgourmet.com
Self-Host Your Own Disposable Mailbox
And if you're feeling techy, self-host this disposable mailbox.
Send-Only Email Service
CyberAtlantis
CyberAtlantis is a send-only email provider which offers an easy to use interface where you have input all the receiver's details and your message. With this service provider, you can send messages with no traces back to you. Given it strips your IP address and it doesn't ask for your phone number, there is no need for registration.
This is a free service thus no support is available.
Acceptable uses of this page are:

Whistle blower activity

Human rights activists, etc…

Government persecuted individuals
Commonly Blacklisted Providers To Avoid 
Sometimes the freedom and anonymity given by free email providers attracts a lot of spammers and fraudsters that don't want to be held accountable for their actions. Unfortunately, free and anonymous email providers are attractive to decent people, too, so sometimes you will be blacklisted by sites or businesses if you use commonly blacklisted email providers. 
Common Blacklisted Providers:
Inbox.LV
Hotmail 
Microsoft.com
Ghic.biz
Why Do Emails Get Blacklisted?
What you need to understand is, emails get blacklisted all the time and it's not really much to worry about. 
Here are the reasons why your email has been blacklisted:
You've sent out lots of newsletters to many recipients on a monthly basis via an unmanaged list (did not accept their unsubscribe request from your newsletters), thus making you seem like a spammer.
Your email might have been hacked by spammers, probably due to your easy-to-guess password.
Another person could be spoofing your email address. This means someone could be setting up your address as the originator of their spam messages, thus leading to many "reports as spam" clicks that could land your email onto the blacklist.
How To Handle The Blacklist Issue 
You should consider contacting your email service provider for support.
Here are some measures you should consider to prevent your email from being blacklisted again: 
It could be an internal issue with a virus. Scan your (Windows) computer and devices routinely for any malware you may have inadvertently installed.
Make sure your operating system is up-to-date.
Change your password for your email account, and change it more than once a year.
If you're in the business of sending newsletters to many recipients, then make sure to include the unsubscribe option (it reduces the chances of your mail being marked as spam).
Again, make sure to remove every recipient on your mailing list if they request to opt-out.
Conclusion
So there you have it! Now you can set up an email that won't contain any personal information such as your phone number for the sake of verification. 
Having a few no-reply or unmonitored email inboxes keeps your actual personal mailbox clean and uncluttered. No longer will you have to wade through hundreds of unnecessary updates from a newsletter or social media platform to find the messages relevant to your actual life.
And get an email without divulging your social identification number (aka phone number).
And now you know why your email address might get blacklisted, and what to do to prevent that from happening.
SB
I've been practicing OSINT and utilizing Linux as my daily operating system for over twenty years. The tools are always changing and so I'm always learning, but helping you understand the value of protecting your own data remains at the forefront of everything I do.